Advertising
Show your commitment to independent local news and promote your products and services to a local audience by advertising on A Great Big City!
Notice: Our prices are discounted through 2021 to better assist New York businesses in recovering from the coronavirus outbreak that has impacted the city's economy 🙏

Contact us with your creative ideas to promote your business and help New Yorkers support you!
If you have any questions or would like to place an ad, email contact@agreatbigcity.com or use the feedback form on our Contact Page to begin the process
---
Podcast Advertising
The AGBC News podcast is accepting standard live-read ads, produced radio spots, and custom business profiles to educate listeners about your products.
The AGBC News podcast recounts stories from the history of New York City, explains current news and how it impacts New Yorkers, explores fun facts about the city, and promotes upcoming concerts and events. We have long served as a trusted local news source and we aim to carry that trust into the under-served area of podcasts focused on NYC.
Read more below about the opportunities available and email contact@agreatbigcity.com to begin developing the perfect promotion for your product, brand, or service!
We give first consideration to New York-based businesses so that promotions will be relevant to our local audience.
---
Monthly Podcast Ads
Standard podcast ads run monthly and include a short "Sponsored by" mention of each advertiser at the beginning of the episode and a longer message during a commercial break in the first third of the episode.
Advertisers may choose one of the formats below:
📰 Live Reads are read by the podcast host and are based on a short script or an outline of important topics provided by the advertiser.
🏢 Business Profiles are a combination of interview and advertisement. An AGBC producer will visit your business to interview you and small portions of audio from that interview will be used to create multiple ads that will air during your promotional period. This audio production will not cost extra, but is only available to advertisers purchasing a promotion of three or more months.
🎙️ Produced Radio Spots are pre-recorded and may feature music and multiple voice actors, similar to ads on commercial radio. Currently these must be pre-produced by the advertiser or an ad agency, but it is an attractive option for companies with a previous history of running radio promotions.
Term
Price
One month
$1,100/month
$825/month
Three or more months
$880/month
$660/month
(20% discount!)
🎉 Podcast + Banner Ad Bonus
If your company also provides a banner ad, it will be displayed across the entire AGBC website for the duration of your podcast promotion!
Banner ads must conform to one of the IAB standard dimensions.
---
We look forward to hearing your thoughts and promoting projects you're working on!

Email contact@agreatbigcity.com
or use our Contact Page

Include basic info such as a short summary of your business and your desired ad type and we will work together to bring your ad to life!
---
Banner Ads
We offer banner advertising that displays across all pages of the site and will appear at the top of the page or in the sidebar next to the content depending on the size of the images provided by the advertiser. Banners ads should follow IAB standards for leaderboard, rectangle, or 1:1 ratio square ads so that they will properly display on both desktop and mobile website layouts.
Our banner ads are shown randomly during each page view. If you would prefer to purchase a guaranteed share-of-voice, please contact us.
This simplified setup helps us maintain a lower price and gives advertisers an easy way to reach local customers interested in your business!
Pricing
Term
Price
One month
$650/month
$480/month
Three months or more
$520/month
$384/month
(20% discount!)
A Great Big City does not collect demographic information and will not run any advertisement requiring tracking scripts.
---
Leaderboard Format
Displays above-the-fold in the header section of every page
Rectangle Format
Displays in sidebar on desktop layout and above-the-fold on mobile website layout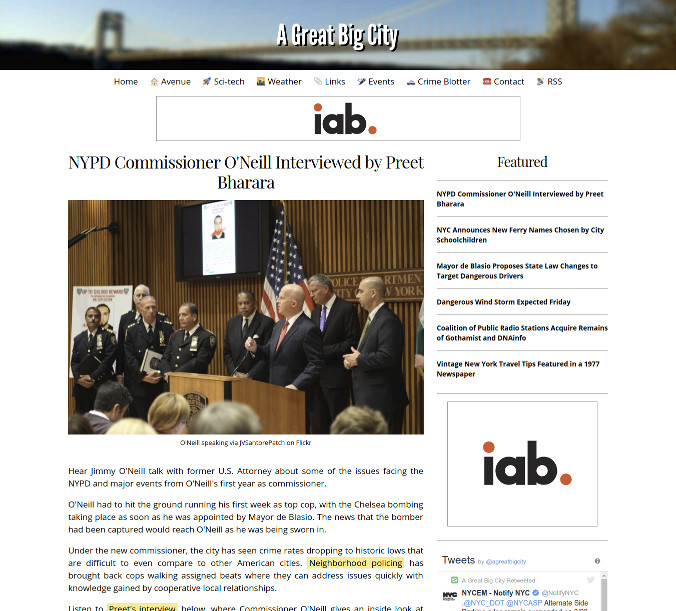 ---
If you have any questions or would like to place an ad, email contact@agreatbigcity.com or use the feedback form on our Contact Page to begin the process