Advertising
Support our committment to independent local news and promote your products and services to an interested audience by advertising on AGBC.
If you have any questions or would like to place an ad, email contact@agreatbigcity.com or use the feedback form on our Contact Page.
---
Podcast Advertising
We recently began the AGBC News podcast and are accepting standard live-read ad spots, produced radio spots, and custom sponsorship opportunities. Email contact@agreatbigcity.com to work with AGBC and develop the perfect promotion for your product, brand, or service. We give first consideration to New York-based businesses so that promotions will be relevant to our local audience.
---
Rotating Banners
We offer banner advertising that displays on all pages of the site, rotating through ads on each page view. Our website layout adapts depending on screen size, so ads will appear either in the sidebar next to the content or immediately following the content. For compatibility, your ad banners should follow IAB standards for rectangle or 1:1 ratio square ads so that they will properly fit in our website layout.
This simplified setup helps us maintain a lower price and gives advertisers an easy way to reach local customers that want to know about your business!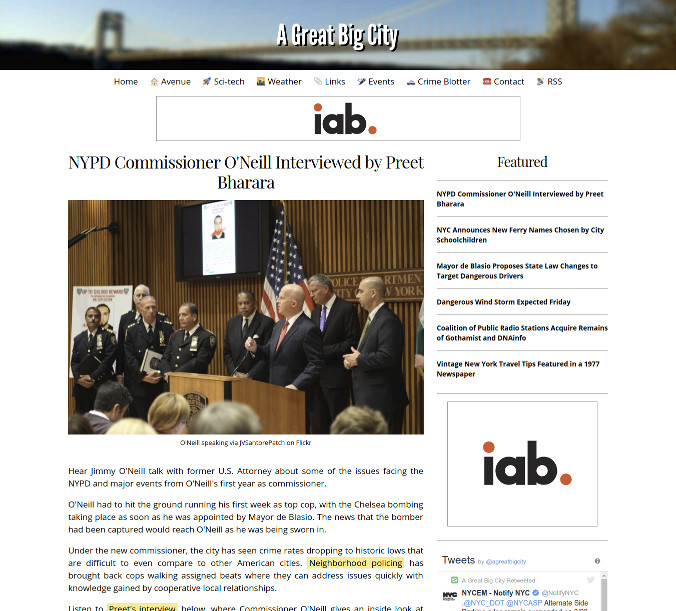 ---
Pricing
Base price for the rotating banner ad is $175/month.
We want to promote New York-area businesses, so we offer two discounts: If you offer our readers a discount code or digital coupon, your cost will decrease by the same amount. For example: If you offer our readers a 20% discount, we will apply a 20% discount to the total price of your ad buy. In addition, if you pay in advance, you can receive a discount of either one or two months free!
| Term | Price |
| --- | --- |
| One month | $175/month |
| Six months | $145/month (one month free) |
| One year | $145/month (two months free) |
---
Dedicated Banners
For products or campaigns that you would like to promote to a larger audience, we offer banner ads with guaranteed display rates. Unlike our rotating banners that display different advertisers on each page view, dedicated banners are displayed equally across all page views. For example, the lowest level (25%) dedicated banner would display one out of every four page views across the entire site.
Dedicated banners are sold in increments of 25% of page views, as seen in the table below. These dedicated banners also offer the discount plan where we will decrease your ad cost by the same discount you offer our readers. If you upgrade to the full 100% Share-of-Voice option, you will receive a 20% discount and your ad will be seen on every page view for the month. Contact us for current monthly availabilities and to talk about any special partnerships you may have in mind.
Pricing
| Share-of-Voice | Price |
| --- | --- |
| 25% | $375 per month |
| 100% | $1,200 per month (20% discount) |
---
We look forward to hearing your thoughts and promoting any projects you're working on!
contact@agreatbigcity.com or our Contact Page.
---