Advertising
Show your commitment to independent local news and promote your products and services to a local audience by advertising on A Great Big City!
If you have any questions or would like to place an ad, email contact@agreatbigcity.com or use the feedback form on our Contact Page to begin the process
---
Banner Ads
We offer banner advertising that displays across all pages of the site and will appear at the top of the page or in the sidebar next to the content depending on the page layout or image sizes provided by the advertiser. Banners ads should follow IAB standards for leaderboard, rectangle, or 1:1 ratio square ads so that they will properly display on both desktop and mobile website layouts.

We look forward to hearing your thoughts and promoting projects you're working on!

Email contact@agreatbigcity.com
or use our Contact Page

Include basic info such as a short summary of your business and your desired ad type and we will work together to bring your ad to life!
---
Pricing
| Term | Price |
| --- | --- |
| One month | $1,100/month |
| Three months or more | $880/month (20% discount!) |
---
Leaderboard Format
Displays above-the-fold in the header section of every page
Rectangle Format
Displays in sidebar on desktop layout and above-the-fold on mobile website layout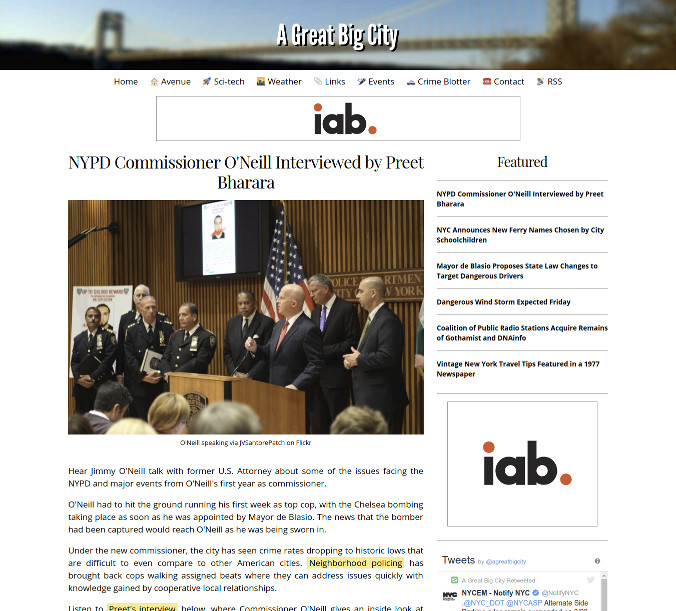 ---
If you have any questions or would like to place an ad, email contact@agreatbigcity.com or use the feedback form on our Contact Page to begin the process